Following our Public Speaking session – Student Iqra Karim wrote an inspiring speech with a call to action: Speak Out Against Racism.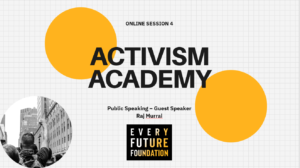 Let's say you are hanging out with your friends, on a nice day out. The sun is shining, there's no homework due, no upcoming tests – just a peaceful day altogether. A Black woman walks past, in a smart suit with a briefcase and an Oxford university teacher's lanyard. One of your friend's comments on the lady, but not with something you think is right: "those ghetto black immigrants are taking over our country". You think that's greatly uncalled for. But you look at the rest of your friends, and they all seem unfazed, they carry on the previous conversation like normal. As if nothing happened. You want to speak out about the comment, but you're scared. Scared that your friends would hate you because they disagree – so you stay silent.
What your friend said was not okay. Definitely not okay. Absolutely not okay. Calling a Black person ghetto is not right whatsoever. For those who are unaware, calling someone from the Black community ghetto suggests that they are unrefined and inferior. This idea of a Black person being unclassy came from the view of their oppressors (white people) years back. I say years back but this word is still used today by racists to refer to Black people. It's racist to call a Black person ghetto. Full stop.
Immigrants don't come over to a country to steal peoples jobs, they have fled their home country because it was unsafe for them. For example, the government may be corrupt or maybe their country was in the middle of a war. Or it was unsafe for them financially, they may not be receiving enough pay to take care of themselves, so they move to a different country for a better job. Them getting jobs isn't a bad thing at all, immigrants can better the economy as there are more people able to work.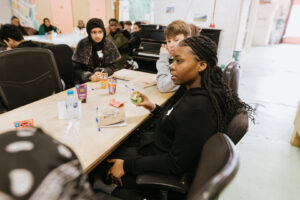 I understand that it may be hard to speak out about racist remarks or just any hurtful language your friends may say. But a friend who actively is racist doesn't seem friendly at all. Speaking out may cause some arguments and quarrels, but in the end it will be worth it. Your friends may realise it was wrong to say or allow those things to be said and will better themselves and stay friends with you. However, there is a chance that you may fall out with a friend because of this, may it be someone who you were friends with for a few months or a friend you had since day 1. But racism should never be accepted or swept under the rug, that's the main reason why racism still exists today even after all the anti-racism campaigns and protests going on – like the BLM protests. People claim they are "not racist" but allow others to just say racist things. Seems a bit hypocritical, doesn't it? It takes courage to speak out, but the results will work in your favour. Change your friend's racist views, or get rid of a problematic person in your life. Speak out, stop racism. 
We are so excited and proud to have students like Iqra in our 2023 cohort. The students of the Activism Academy give us hope that significant progress can be made on anti-racism if we accept that the problem exists and collaboratively work against racism.